SPEC® CINT2006 Result
Copyright 2006-2016 Standard Performance Evaluation Corporation
SGI
SGI UV 3000 (Intel Xeon E5-4627 v3, 2.60 GHz)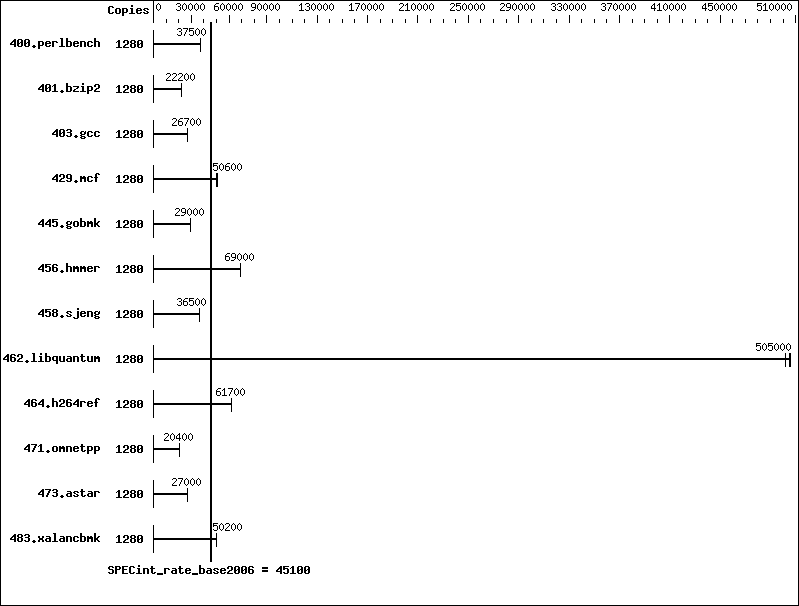 The dplace mechanism was used to bind copies to processors. The config file option 'submit'
 was used to generate dplace commands to bind each copy to a specific processor.
 Benchmark copies were launched in a staggered fashion to minimize kernel contention
 associated with synchronized launches.
 For details, please see the config file.


 Stack size set to unlimited using "ulimit -s unlimited"

 The tmpfs filesystem was set up with:
   mkdir -p /mnt/shm/cpu2006-sgi-ic16
   mount -t tmpfs -o size=16384g,rw tmpfs /mnt/shm/cpu2006-sgi-ic16


 The dmidecode output is in error - the memory was running at 2133.


Environment variables set by runspec before the start of the run:
LD_LIBRARY_PATH = "/mnt/shm/cpu2006-sgi-ic16/libs/32:/mnt/shm/cpu2006-sgi-ic16/libs/64:/mnt/shm/cpu2006-sgi-ic16/sh"

 Transparent Huge Pages enabled with:
 echo always > /sys/kernel/mm/transparent_hugepage/enabled
 Filesystem page cache cleared with:
 echo 1 >       /proc/sys/vm/drop_caches