SPEC® CFP2006 Result
Copyright 2006-2014 Standard Performance Evaluation Corporation
ACTION S.A.
ACTINA SOLAR 200 X5 (Intel Xeon E5-2640 v2, 2.00
GHz)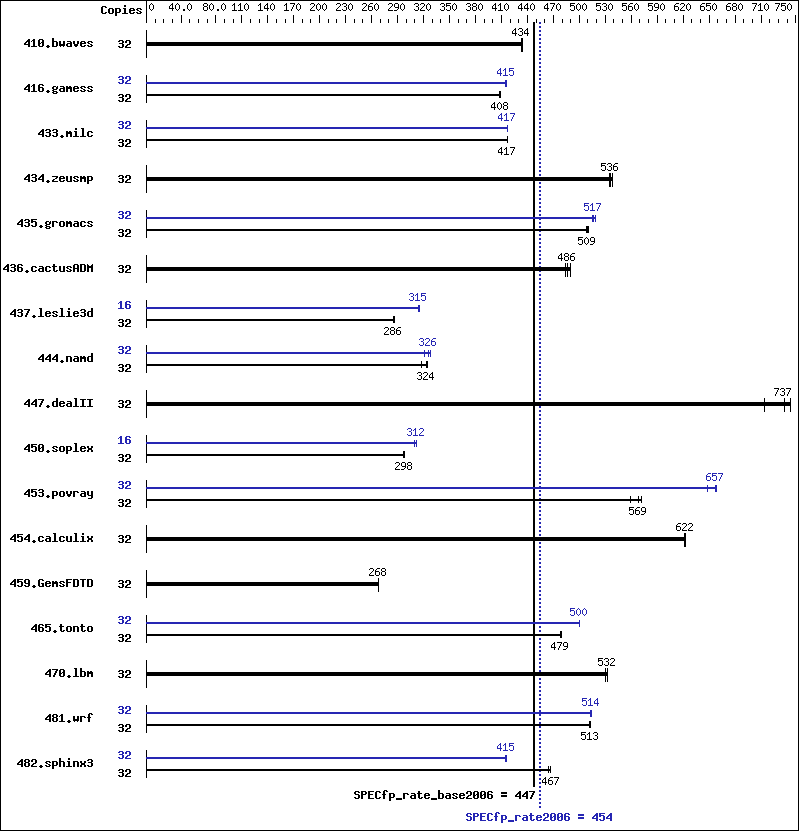 The numactl mechanism was used to bind copies to processors. The config file option 'submit'
 was used to generate numactl commands to bind each copy to a specific processor.
 For details, please see the config file.


 Stack size set to unlimited using "ulimit -s unlimited"



 Bios Settings:
 System Acoustic and Performance Configuration = Performance
 Select Memory RAS Configuration = Maximum Performance
 Intel(R) Turbo Boost Technology = Enabled
 Processor C3 = Disabled
 Processor C6 = Disabled

 Sysinfo program /cpu2006.1.2/config/sysinfo.rev6818
 $Rev: 6818 $ $Date:: 2012-07-17 #$ e86d102572650a6e4d596a3cee98f191
 running on localhost.localdomain Tue Jan  4 19:20:32 2005

 This section contains SUT (System Under Test) info as seen by
 some common utilities.  To remove or add to this section, see:
   http://www.spec.org/cpu2006/Docs/config.html#sysinfo

 From /proc/cpuinfo
    model name : Intel(R) Xeon(R) CPU E5-2640 v2 @ 2.00GHz
       2 "physical id"s (chips)
       32 "processors"
    cores, siblings (Caution: counting these is hw and system dependent.  The
    following excerpts from /proc/cpuinfo might not be reliable.  Use with
    caution.)
       cpu cores : 8
       siblings  : 16
       physical 0: cores 0 1 2 3 4 5 6 7
       physical 1: cores 0 1 2 3 4 5 6 7
    cache size : 20480 KB

 From /proc/meminfo
    MemTotal:       132053000 kB
    HugePages_Total:       0
    Hugepagesize:       2048 kB

 /usr/bin/lsb_release -d
    Red Hat Enterprise Linux Server release 6.4 (Santiago)

 From /etc/*release* /etc/*version*
    redhat-release: Red Hat Enterprise Linux Server release 6.4 (Santiago)
    system-release: Red Hat Enterprise Linux Server release 6.4 (Santiago)
    system-release-cpe: cpe:/o:redhat:enterprise_linux:6server:ga:server

 uname -a:
    Linux localhost.localdomain 2.6.32-358.11.1.el6.x86_64 #1 SMP Tue Nov 19
    17:43:04 CET 2013 x86_64 x86_64 x86_64 GNU/Linux

 run-level 3 Jan 1 03:35

 SPEC is set to: /cpu2006.1.2
    Filesystem    Type    Size  Used Avail Use% Mounted on
    /dev/sda1     ext4    193G   78G  105G  43% /

 Additional information from dmidecode:
   BIOS Intel Corp. SE5C600.86B.02.03.0003.041920141333 04/19/2014
   Memory:
    16x   8 GB
    16x Hynix HMT31GR7EFR4C-RD 8 GB 1867 MHz 2 rank

 (End of data from sysinfo program)
 dmidecode does not properly detect memory modules
 16 modules of 8 GB were used to run the test (128 GB total)
 memory modules operate at speed 1600 MHz while dmidecode shows 1867 MHz


Environment variables set by runspec before the start of the run:
LD_LIBRARY_PATH = "/cpu2006.1.2/libs/32:/cpu2006.1.2/libs/64:/cpu2006.1.2/sh"

 Transparent Huge Pages enabled with:
 echo always > /sys/kernel/mm/redhat_transparent_hugepage/enabled
 Filesystem page cache cleared with:
 echo 1>       /proc/sys/vm/drop_caches
 runspec command invoked through numactl i.e.:
 numactl --interleave=all runspec <etc>
 Binaries compiled on a system with 2x Xeon E5-2650 v2 chips + 256 GB memory
 using RedHat EL 6.4