SPEC® CINT2006 Result
Copyright 2006-2014 Standard Performance Evaluation Corporation
IBM Corporation
IBM Power 710 Express (3.55 GHz, 8 core)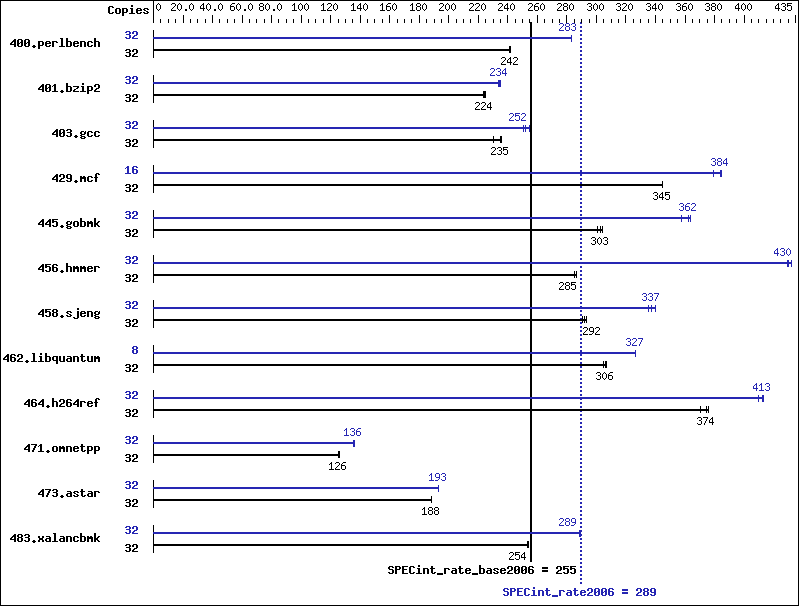 fdpr binary optimization tool used for 401.bzip2
  with options -O4 -sdp 9 -rtb -vrox -nodp -m power7
 fdpr binary optimization tool used for:
    403.gcc 429.mcf 445.gobmk 458.sjeng
  with options -O3 -m power7
 fdpr binary optimization tool used for 456.hmmer
  with options -O3 -lu -1 -nodp -sdp 9 -m power7
 fdpr binary optimization tool used for 462.libquantum
  with options -O4 -nodp -m power7
 fdpr binary optimization tool used for 471.omnetpp
  with options -O4 -nodp -m power7 -vrox
 fdpr binary optimization tool used for 473.astar
  with options -O4 -sdp 9 -vrox -dp -m power7


 The config file option 'submit' was used
 to assign benchmark copy to specific kernel thread using
 the "bindprocessor" command (see flags file for details).


Environment variables set by runspec before the start of the run:
  MALLOCOPTIONS = "pool"
  MEMORY_AFFINITY = "MCM"
  XLFRTEOPTS = "intrinthds=1"

All ulimits set to unlimited.
6400 16M large pages defined with vmo command

See the flags file for details on settings.